Dell Precision 7520 Core i7-6820HQ/16G/Quadro M2200/256SSD/1TB/15.6FHD/W10Pro
 QUÀ TẶNG CUỐI NĂM: TẶNG NGAY 1.000.000 VND TIỀN MẶT
(Thời hạn đến trước ngày 15/12/2020)
WIN 10 PRO BẢN QUYỀN
 OPTION:
– Camera: Yes
– Bluetooth: Yes
– Backlit keyboard: No
– FingerPrint: No
GRADE A 
REFURBISHED TỪ DELL USA – GRADE A – NGUYÊN NIÊM PHONG TỪ DELL USA
QUÝ KHÁCH TỰ KHUI THÙNG
Detailed below is your device's (Service Tag: G4J2BH2) original configuration and the system specifications it shipped with.
817-BBBB : Custom Configuration
800-BBGF : BTO Standard shipment Air
658-BCUV : Dell Developed Recovery Enviro nment
658-BCSB : No Microsoft Office License In cluded – 30 day Trial Offer On ly
658-BBRB : Waves Maxx Audio
658-BBMR : Dell Client System Update (Upd ates latest Dell Recommended B IOS, Drivers, Firmware and App s)
658-BBMQ : Enable Low Power Mode
640-BBLW : Dell(TM) Digital Delivery Cirr us Client
640-BBES : Dell Precision Optimizer
634-BENZ : No DDP ESS Software
631-ABHD : System Driver for Mobile Preci sion 7520
631-ABEL : No Out-of-Band Systems Managem ent
620-AARL : No OS Media Kit
619-AHKN : Win 10 Pro 64 English, French, Spanish
580-AFVD : Keyboard, Lattice For 106 Key
580-AFTV : Keyboard, US-English non backl it
556-BBDZ : No Mobile Broadband
555-BDFV : Qualcomm QCA61x4A 802.11ac Dua l Band, 2×2, Wireless Adapter + Bluetooth 4.2 Driver
555-BDDK : Qualcomm QCA61x4A 802.11ac Dua l Band, 2×2, Wireless Adapter + Bluetooth 4.2
490-BDJW : Thermal Pad for Nvdia Graphic cards
490-BDJV : NVIDIA Quadro M2200 w/4GB GDDR 5
452-BBDB : Dell Docking Spacer for Latitu de
451-BBPP : 6-cell (72Wh) Lithium Ion Poly mer Battery with ExpressCharge
450-AGCN : US 125V Power Cord
450-AGCM : 180 Watt AC Adapter
430-XYGV : Resource Media not Included
401-AAPS : Additional 1TB 2.5inch SATA (7 200 Rpm) Hard Drive
400-AOSK : M.2 256GB PCIe Class 40 SSD
391-BDDT : 15.6″ UltraSharp FHD IPS(1920x 1080) Panel 300nits Brightness
389-BRFX : Regulatory Anatel Label
389-BHGE : Intel Core i7 Processor Label
387-BBDO : Not ENERGY STAR Qualified
379-BCUM : Intel Core i7-6820HQ (Quad Cor e 2.70GHz, 3.60GHz Turbo, 8MB 45W, w/Intel HD Graphics 530)
370-ADKL : 16GB, 2x8GB, DDR4 2666MHz Non- ECC Memory
346-BCFO : Palm Rest with Smart Card and without finger printer
340-AJFC : Kickstart Product Registration
340-AGIK : SERI Guide (ENG/FR/Multi)
340-ADFZ : Dell Power Manager
340-ACQQ : No Option Included
340-AAPP : Direct Ship Info
338-BMKL : Intel Core i7-6820HQ with Thun derbolt 3
328-BCLW : Dell Precision Ship Material, 7520 (TPM Enabled)
328-BCLT : System Shipment Material, 7520
320-BCDQ : Back Cover For FHD Non Touch
319-BBEK : Non Touch Bezel for FHD with C amera and Mic
210-AKKD : Mobile Precision 7520 XCTO BAS E
Operating System
Available with Windows 10 Pro for a smooth, versatile PC experience.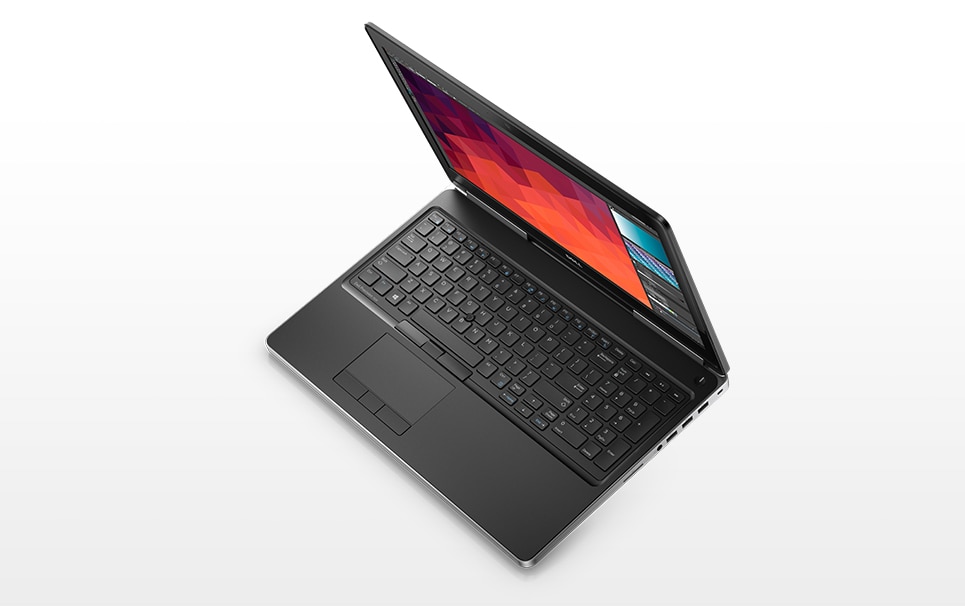 Premium design. Premium performance.
Operating System: Windows 10 Pro
High-powered processors: We know you take on the biggest tasks. So we offer the best processors available. The Precision 7520 mobile Workstation delivers no-holds-barred processing power with the blazing performance of 7th Generation Intel ® Core™ i5, i7 and Intel® Xeon® processors.
Genius in the details: A premium, innovative design delivers up to four impeccable display options up to Ultra HD with 100% Adobe RGB and 8 million pixels. With detail this vivid, you'll see everything in crisp, glorious definition.
High-performance graphics: Next generation professional-grade 2xRadeon Pro™ WX and 2xNVIDIA Quadro® graphics options with up to 4GB of graphics memory. Super high-speed 2400Mhz and 2667MHz of DDR4 memory keep pace with demanding 3D rendering and other graphics-intensive tasks.
Enjoy a long life: You'll get plenty of charge with the long lasting 91WHr battery.
Ultimate reliability: Tested, optimized and certified with professional software applications as well as more support options with industry leading resolution time.

Supports 8k display: Dell Precision 7520 and 7720 mobile workstations are the first with DisplayPort 1.4, which supports 8K resolution and HDR via a single cable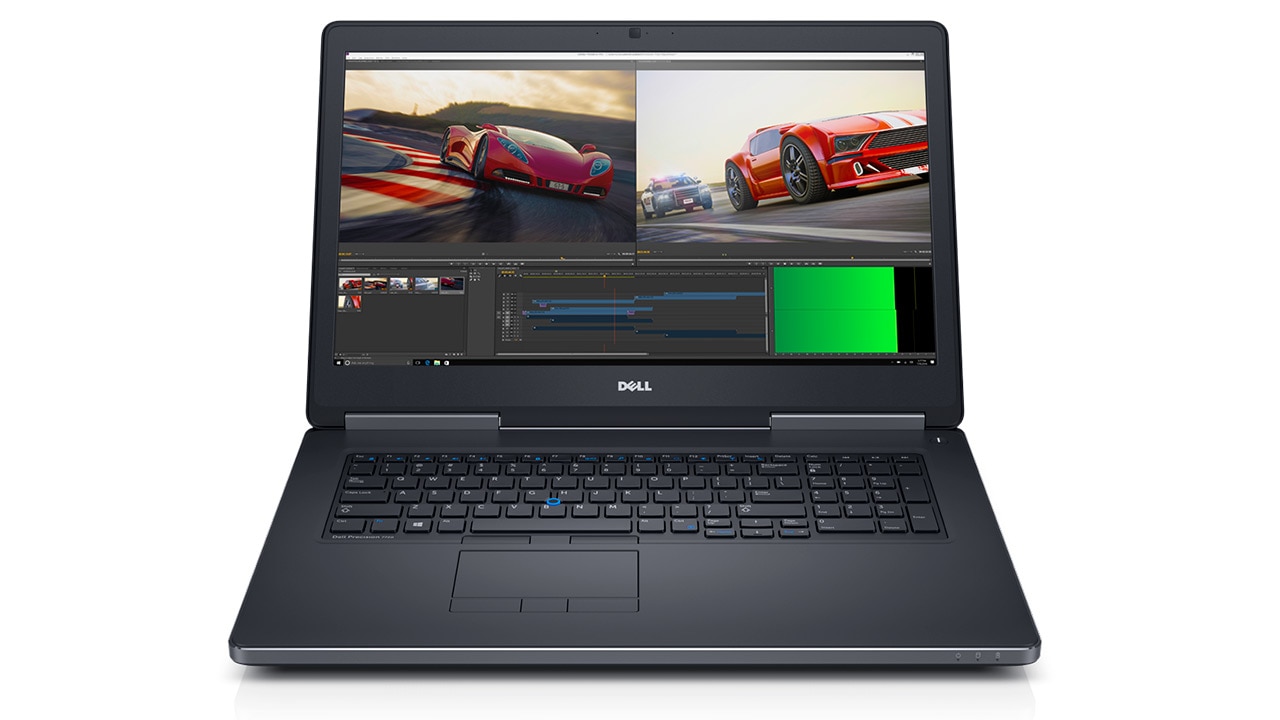 Video: Dell Precision 7720 & 7520 Mobile Workstation (2017) 0:58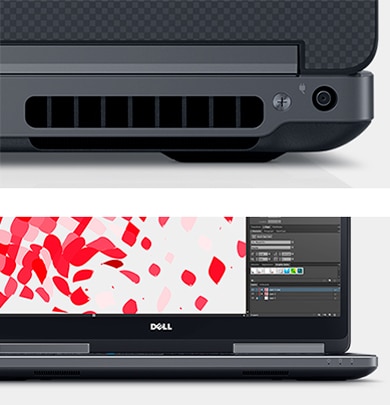 Superior comfort, speed and storage
Stay cool
Dell's patented 5th generation dual cooling fans provide a brilliant approach to thermal cooling, taking performance and comfort to levels never before seen on a task-intensive laptop. No matter how high-powered your project, your processing and graphical applications will work within turbo frequencies and your system will stay cool.Room for all your big ideas
Solid state PCle NVMe storage gives you the space to easily store, transfer and access complex 3D, multimedia and video files quickly and reliably. And with up to 3TB of total system storage, you'll have space for even the biggest projects.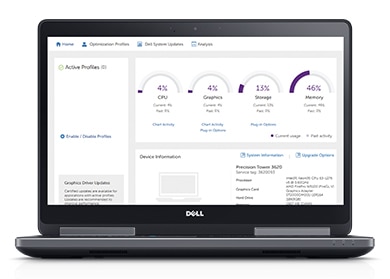 Improve productivity with Dell Precision Optimizer
Free with your Precision workstation, the Dell Precision Optimizer 4.0 takes the guesswork out of customizing settings and automatically adjusts them. The Dell Precision Optimizer automatically tunes your workstation to run the most popular Independent Software Vendor (ISV) applications at the fastest speeds possible for the fastest results. Featuring enterprise smart alerts for processor, storage, memory, and graphics utilization all in an elegant, new UI.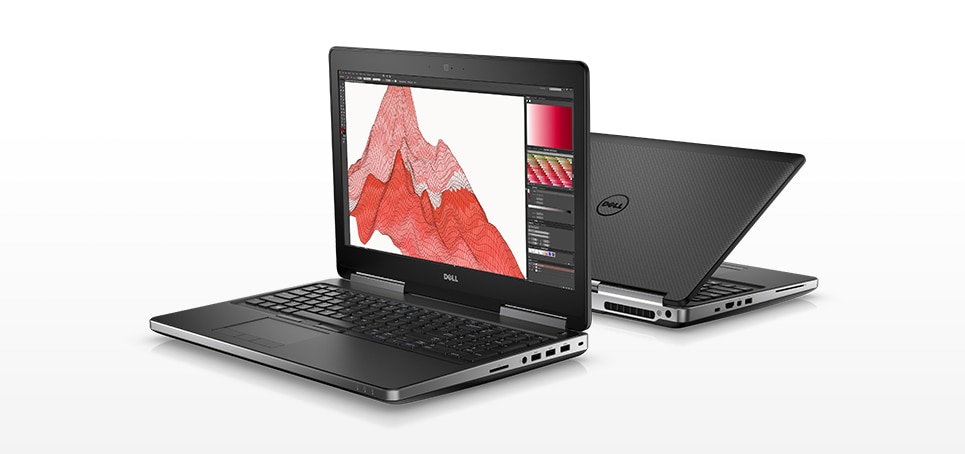 Innovative, durable design
Strong materials: The brilliantly designed chassis is subjected to and passes MIL-STD 810G testing, ensuring durability and reliability for wherever your job takes you.
Enhanced docking: Make using your peripherals and displays easy with the Dell E Dock, or use the Dell Thunderbolt™ Dock for faster data transfers and support for up to four Full HD displays or 2 4K displays and five other peripheral devices.
Rigorously tested for optimal performance
Independent Software Vendor (ISV) certification: Precision Workstations are tested to ensure the high-performance applications you rely on every day run smoothly. Dell ISV-certifications cover the most popular independent software applications.

Ports & Slots
1. Memory card reader | 2. Headphone jack | 3. USB 3.0 with PowerShare | 4. Security lock| 5. RJ45 port | 6. Power adapter port | 7. Thunderbolt 3 type C port | 8. HDMI | 9. Mini display port connector | 10. USB 3.0 with PowerShare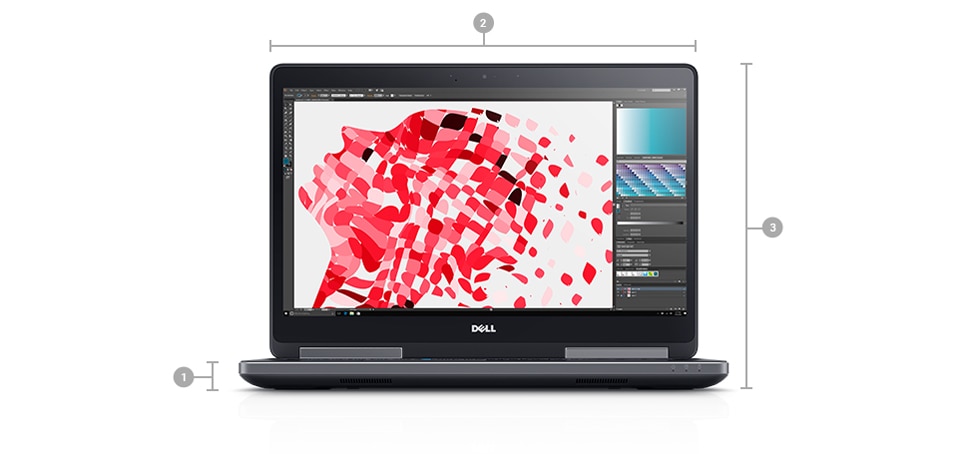 Dimensions & Weight
1. Height: (front) 1.09″ (27.76mm) Height: (rear) 1.3″ (33mm) | 2. Width: 14.88″ (378mm) | 3. Depth: 10.38″ (261mm)
Weight: (starts at) 6.16lbs (2.8kg)